Develop with DEEP®
Aligners
Premium solutions
Introduce yourself to DEEP® technologies and offer your patients the latest generation transparent aligner system, made in France.
Transparent. Simple. Easy to use.
Let's become partner
Join the DEEP®Team
Let's meet !
Contact us (by phone, by email, via social networks…) you will be put in touch with one of our consultants for a personalized exchange and follow-up
A tour through the DEEP Academy
Trained. Certified. Take part in our Aligner training courses at the DEEP Academy (in Lyon, Paris or in webinar). Modules and sessions for all levels taught by our experts.
Smile! Let's get started !
Once trained, begin DEEP invisible orthodontic treatments at your facility. Provide excellent care in a feel-good experience for your patients
Aligners specialist
Much more than an aligner
Our aligners combine clinical effectiveness and patient comfort.  Indeed, the polymer used in the manufacture of the aligners has a unique three-dimensional structure that allows the teeth to be moved smoothly. Gradually. While exerting a stable and constant force. The choice of our raw material allows us to produce aligners with ideal capacities and performances.
Our aligners exert a force 4 times more constant and stable
They apply 2 times less effort on the teeth during the first 24 hours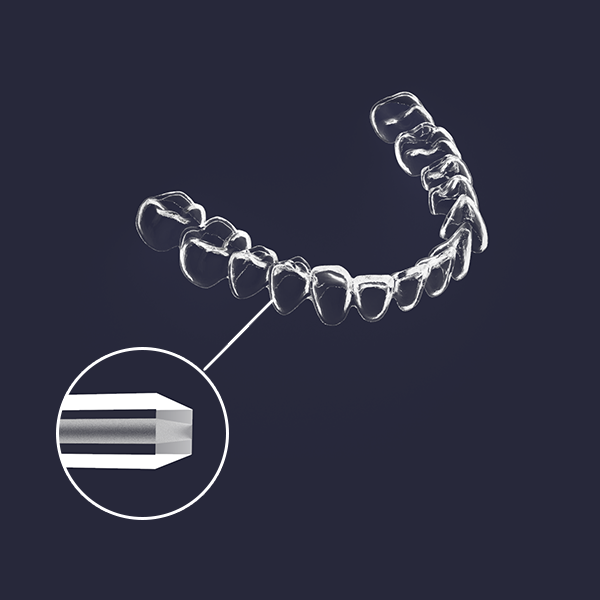 Ultra-comfortable thanks to these smooth edges with a cut at the collar, our aligners are pleasant to wear.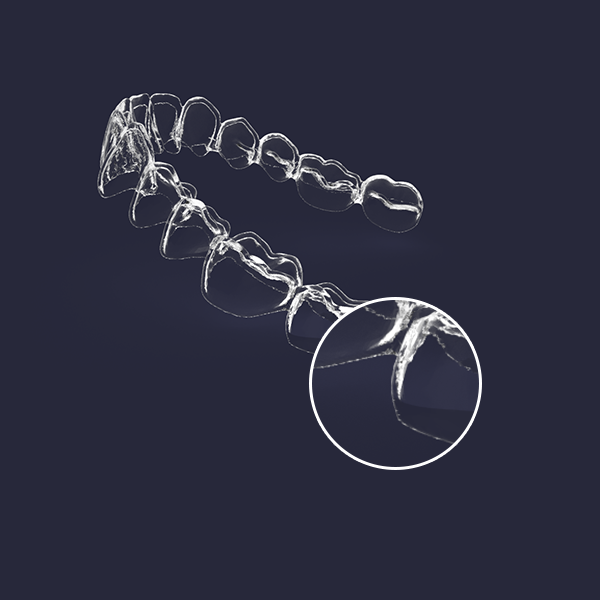 Transparent and discreet aligners.
Your patients can continue to smile without changing their habits.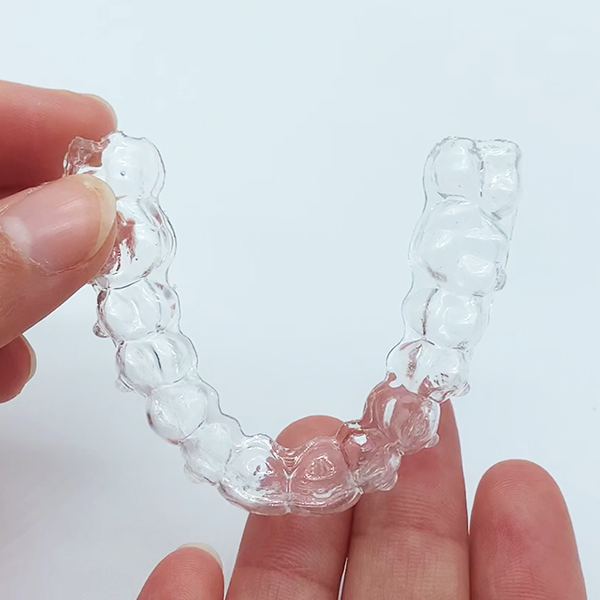 All our aligners are manufactured in our factory in France, using digital and 3D printing technologies. More proximity, more reactivity.
Come and visit our company located next to Lyon airport!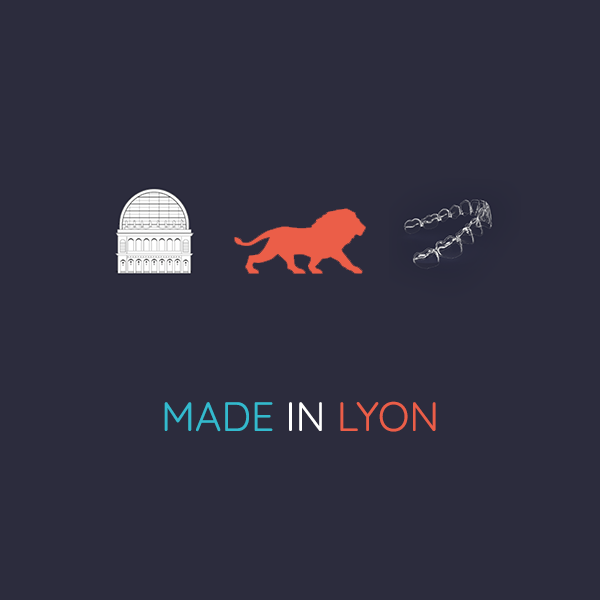 We have recently expanded our aligner solutions with a whitening offering to take your new smile one step further, naturally.
Offer your patients the opportunity to complete their aligner treatment with a natural, gentle, tray-friendly whitening with Opalescence gel. Select the "Lightening" option and receive the ready-to-use kit to give to your patient.
Want to know more? Click here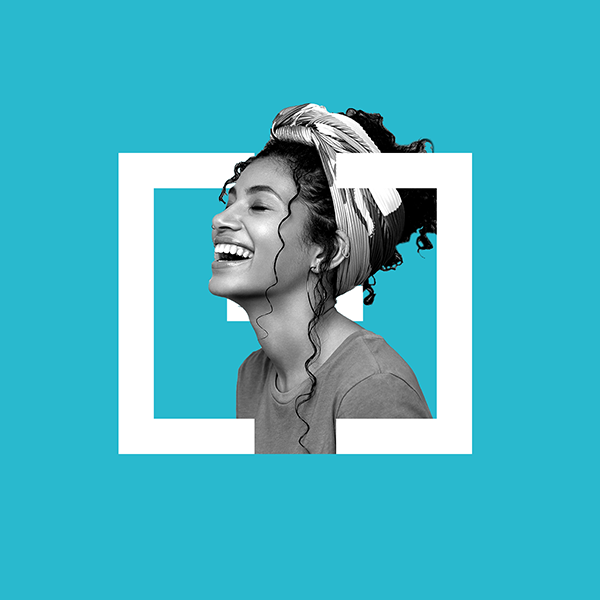 At DEEP, we affirm our values! We strive to create a feel-good experience for your patients with online tutorials, DEEP Boxes to accompany them towards their new smile, composed of eco-responsible products and made in France :
A soft toothbrush made of Bamboo
A toothpaste from the brand Respire, made in France and 100% natural
A kit made from recycled advertising tarpaulins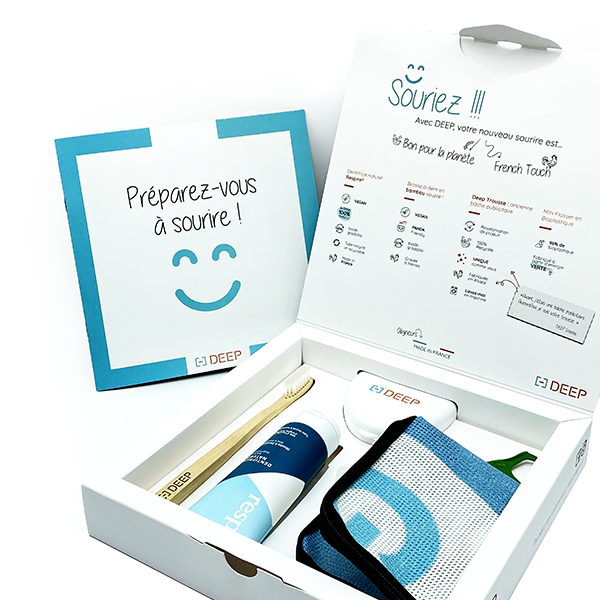 Technology
Premium solutions
100% Made in France
The aligners are manufactured using 3D printing technologies in our premises in the Lyon region. A team of orthodontists collaborate and supervise each treatment on a daily basis.
Innovation
We use the latest generation of flexible three-layer plastic for the production of our aligners. Comfortable and efficient, it allows us to move the teeth in a controlled manner.
Our production is constantly evolving in order to integrate new technologies and remain efficient.
Stay tuned
Top 3 DEEP tools
Intuitive interface
Save time and work together on a common, efficient and intuitive interface.
A single digital platform that brings together all your treatment data
Customizable clinical and production preferences
Flexible and scalable treatment plans
100% exportable data
DEEPviewer
For each case we create a 3D simulation of the treatment plan (DEEPviewer). It allows to visualize the evolution of the teeth in space and time. This tool allows the patient to better understand his treatment.
A motivated patient = a successful treatment.
Discover the DEEPviewer in video
A smooth plan
At DEEP, we like it when everything runs smoothly. That's why our treatments are automatically scheduled.  Follow-up with your patient allows you to validate the progress of the treatment and thus automatically launch the rest of the production or rectify it if necessary.
Let us guide you!
Two offers, zero surprise
Two offers, zero surprise! Simplicity is king.
Adjusted
Pay for what you use. That's it!
For treatments from 1 to 35 aligners.
Fixed aligner unit price.
Finishing aligners included.
Secure
A package without surprises
Unlimited aligners. (more than 35 aligners)
A package with no surprises whatever the number of aligners done !
Finishing aligners and additional phases included.